| | | |
| --- | --- | --- |
| | | Raining Data's flagship products are a family of powerful multi-dimensional database management systems that are the choice of thousands of application developers worldwide. These include D3, mvEnterprise and mvBase. |
State-of-the-Art development products designed specifically for the MultiValue marketplace:

D3 / Pick DBMS The D3 DBMS embodies the best and most desired features for developers and users. It is simple in its structure but allows for complex definitions of data structures and program logic. The built-in development environment allows applications to be rapidly prototyped, developed, and modified on the spot. Custom applications and on-site enhancements are common in the D3 community. Everything required for development is already in D3, making D3 much more than a typical database environment. Site administration requires a fraction of the staff of other environments of the same size - a large proportion of sites running D3 do not have an IT staff.

Web Enabling Applications With mvDesigner, Raining Data offers a unique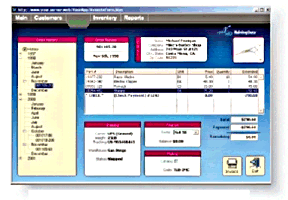 technology which allows us to deploy elegant GUI front end applications as thick (client/server) or thin (web) clients while fully utilizing existing MultiValue business rules and file structures. Web-enable your company with Web based Pick applications from S4 Solutions! Our FlashCONNECT® tools enable us to quickly implement a Web browser interface for Internet, intranet and extranet applications.
S4 Solutions develops full software application in mvDesigner.
With the help of mvDesigner, S4 Solutions created a GUI-based software package from the "ground up." MediCollect Healthcare Collections Software was developed for a law firm that specializes in healthcare receivables and represents doctors and hospitals across New York, New Jersey, and Pennsylvania. S4's success in meeting their client's needs came through their ability to leverage existing experience in the General Collections arena and creating a customized package to meet their client's current and future needs utilizing the functionality of mvDesigner. The results are an easy to use and easy to navigate application that includes excellent client contact management features. Click here for the full story.

S4 Solutions, Inc.
155 Merrick Ave
Merrick, NY 11566
516-379-8630
Fax 516-379-8633
E-mail: info@s4si.com