S4 Solutions develops full software application in mvDesigner. With the help of mvDesigner, S4 Solutions created a GUI-based software package from the "ground up." MediCollect Healthcare Collections Software was developed for a law firm that specializes in healthcare receivables and represents doctors and hospitals across New York, New Jersey, and Pennsylvania. S4's success in meeting their client's needs came through their ability to leverage existing experience in the General Collections arena and creating a customized package to meet their client's current and future needs utilizing the functionality of mvDesigner. The results are an easy to use and easy to navigate application that includes excellent client contact management features.

MediCollect Healthcare Collections Software - an mvDesigner Success Story! Our client is a law firm that has over 20 years of experience specializing in Healthcare Receivables. They represent doctors and hospitals across New York, New Jersey and Pennsylvania, with a current customer base of over one million debtors.
Their previous software package was written for General Collections and was not flexible or cost effective enough to modify in order to keep up with the specific requirements of a Healthcare Receivables firm. They searched for over a year to locate a viable, cost effective, GUI-based software package developed specifically for their industry.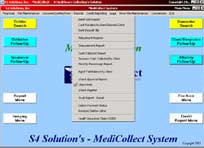 Due to our software involvement in the General Collections area, along with our ability to create custom software solutions, we were recommended for the job. We gave them a demo of our General Collections software and demonstrated the ease of changing the database to meet their specific needs. We recognized an opportunity to leverage our existing experience and get involved in the Healthcare Receivables arena. We were contracted to design and develop a package that not only met the current and future needs of the industry, was easy to use and navigate, but has excellent client contact management features.
Features include:
| | |
| --- | --- |
| | Persistent connections |
| | Integration with MS Office, imaging, email and faxing |
| | Contact management |
| | Trust accounting |
| | Accounts Receivable |
| | Law suit processing |
| | Insurance claims management |
| | Follow-up processing |
| | Electronic data interchange |
Previously, our client had an AS400 with character-based software. Their current configuration now includes: MS Windows 2000 Server, D3 NT 7.2.1, FlashCONNECT 3.1, and mvDesigner 2.0.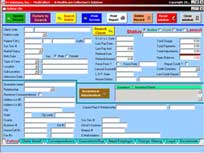 With the release of mvDesigner in 2001, S4 Solutions was pleased to have a Windows-based rapid development platform. This platform allowed us to utilize our existing D3 database designs, as well as numerous FlashBASIC business rules to create a GUI-based software package from the ground up. This software would be not only feature rich but more acceptable and competitive to other industry standard GUI-based packages.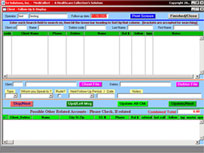 All screens and processes were totally redesigned to meet this goal. The rapid prototyping and ease of use of the D3 database with the utilization of b-trees and indexes, was married with mvDesigner to create a robust, yet easy to maintain software package. With the recent release of the mvDesigner report writer, we have also redesigned our reports and forms. The report writer allows us to generate professional and easy to read reports. Our software is integrated with MS Office, imaging, email and fax. Our next phase is to develop a Web interface to debtor information. We will be utilizing FlashCONNECT as a secure method to allow client's customers as well as debtors to review, monitor and submit payments.

We began with mvDesigner version 1.0 and started programming within weeks of studying and learning the product. With the help of Raining Data technical support, we were able to accomplish all of our goals. A major design consideration for us was the issue of persistence. Since the application would be running in a multi-user client server environment, we wanted to maintain the reliability of the D3 record locking schema, without developing an additional layer of code. Also, because we were selling our product as a GUI-compliant environment, we wanted the user to be able to open multiple windows at the same time (i.e., multiple debtor and client screens). Through design considerations we were able to maintain the persistence, which allowed for record locking as well as multiple windows.
We are now converting our Process Manufacturing package to mvDesigner. Although this project will take the better part of a year, this will add more years of life to our manufacturing product. mvDesigner has certainly matured!
Richard Grene
President, S4 Solutions
rgrene@s4si.com
http://www.s4si.com/

Back to MediCollect